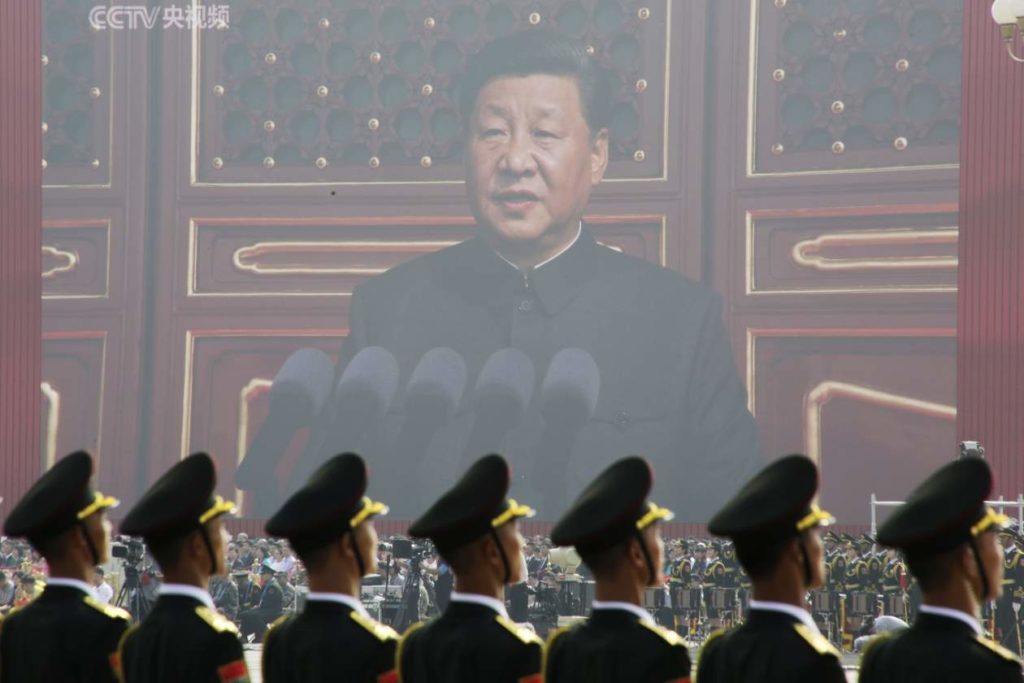 AP ("China's Xi faces threat from public anger over 'zero COVID'"):
Barely a month after granting himself new powers as China's potential leader for life, Xi Jinping is facing a wave of public anger of the kind not seen for decades, sparked by his "zero COVID" strategy that will soon enter its fourth year.

Demonstrators poured into the streets over the weekend in cities including Shanghai and Beijing, criticizing the policy, confronting police — and even calling for Xi to step down. Students at some universities also protested.

Widespread demonstrations are unprecedented since the army crushed the 1989 student-led pro-democracy movement centered on Beijing's Tiananmen Square.

Most protesters focused their anger on restrictions that can confine families to their homes for months and have been criticized as neither scientific nor effective. Some complained the system is failing to respond to their needs.

The cries for the resignation of Xi and the end of the Communist Party that has ruled China for 73 years could be deemed sedition, which is punishable by prison.

In response, police in Shanghai used pepper spray to drive away demonstrators, and dozens were detained in police sweeps and taken away in police vans and buses. China's vast internal security apparatus is also famed for identifying people it considers troublemakers and picking them up later when few are watching.

The possibility of more protests is unclear. Government censors scrubbed the internet of videos and messages supporting them. And analysts say unless divisions emerge, the Communist Party should be able to contain the dissent.

China's stringent measures were originally accepted for minimizing deaths while other countries suffered devastating waves of infections, but that consensus has begun to fray in recent weeks.

While the ruling party says anti-coronavirus measures should be "targeted and precise" and cause the least possible disruption to people's lives, local officials are threatened with losing their jobs or other punishments if outbreaks occur. They have responded by imposing quarantines and other restrictions that protesters say exceed what the central government allows.

Xi's unelected government doesn't seem too concerned with the hardships brought by the policy. This spring, millions of Shanghai residents were placed under a strict lockdown that resulted in food shortages, restricted access to medical care and economic pain. Nevertheless, in October, the city's party secretary, a Xi loyalist, was appointed to the Communist Party's No. 2 position.

The party has long imposed surveillance and travel restrictions on minorities including Tibetans and Muslim groups such as Uyghurs, more than 1 million of whom have been detained in camps where they are forced to renounce their traditional culture and religion and swear fealty to Xi.

But this weekend's protests included many members of the educated urban middle class from the ethnic Han majority. The ruling party relies on that group to abide by an unwritten post-Tiananmen agreement to accept autocratic rule in exchange for a better quality of life.

Now, it appears that old arrangement has ended as the party enforces control at the expense of the economy, said Hung Ho-fung of Johns Hopkins University.

"The party and the people are trying to seek a new equilibrium," he said. "There will be some instability in the process."

To develop into something on the scale of the 1989 protests would require clear divisions within the leadership that could be leveraged for change, Hung said.

Xi all but eliminated such threats at an October party congress. He broke with tradition and awarded himself a third five-year term as party leader and packed the seven-member Politburo Standing Committee with loyalists. Two potential rivals were sent into retirement.

"Without the clear signal of party leader divisions … I would expect this kind of protest might not last very long," Hung said.

It's "unimaginable" that Xi would back down, and the party is experienced in handling protests, Hung said.
WaPo ("Rare protests against China's 'zero covid' policy erupt across country") adds:
The immediate trigger for the demonstrations, which were also seen at universities in Beijing, Xi'an and Nanjing on Saturday, was a deadly fire in Urumqi, the capital of Xinjiang, in China's far northwest on Thursday. Ten people, including three children, died after emergency fire services could not get close enough to an apartment building engulfed in flames. Residents blamed lockdown-related measures for hampering rescue efforts.

Officials on Friday denied that covid restrictions were a factor and said some residents' "ability to rescue themselves was too weak," fueling more ridicule and anger that swept across Chinese social media platforms. Residents in Urumqi, one of the most tightly controlled cities in China as a result of a broader security crackdown, turned out to protest Friday. Many waved China's national flag and called for lockdowns to be fully lifted.

[…]

Such demonstrations are extremely rare in China, where authorities move quickly to stamp out all forms of dissent. Authorities are especially wary of protests at universities, the site of pro-democracy demonstrations in 1989 that spread across the country and ended in a bloody crackdown and massacre around Beijing's Tiananmen Square.

[…]

'

Across the country, and not just at universities, citizens appear to be reaching a breaking point. In the name of "zero covid," they have lived through almost three years of unrelenting controls that have left many sealed in their homes, sent to quarantine centers or barred from traveling. Residents must submit to repeated coronavirus tests and surveillance of their movement and health status.

The Urumqi fire followed a bus crash in September that killed 27 people as they were being taken to a quarantine center. In April, a sudden lockdown in Shanghai left residents without enough food and prompted online and offline protests. Deaths related to the restrictions, including a 3-year-old who died after his parents were unable to take him to a hospital, have further added to public anger.

Health authorities say this strategy of cutting off covid transmission as soon as possible and quarantining all positive cases is the only way to prevent a surge in severe cases and deaths, which would overwhelm the health-care system. As a result of its low infection rate, China's population of 1.4 billion has a low level of natural immunity. Those who have been immunized have received domestically made vaccines that have proved less effective against the more infectious omicron variant.
NYT ("After Deadly Blaze, Surge of Defiance Against China's Covid Policies") adds:
Protests are relatively rare in China. Especially under Mr. Xi, the party has eliminated most means for organizing people to take on the government. Dissidents have been imprisoned, social media is heavily censored, and independent groups involved in human rights have been banned. The protests that break out in towns and villages often involve workers, farmers or other locals aggrieved by job losses, land disputes, pollution or other issues that usually remain contained.

But the pervasiveness of China's Covid restrictions has created a focus for anger that transcends class and geography. Migrant workers struggling with food shortages and joblessness during weekslong lockdowns, university students held on campuses, urban professionals chafing at travel restrictions — the roots of their frustrations are the same.

The Communist Party's greatest fear would be realized if these similar grievances led protesters from disparate backgrounds to cooperate, in an echo of 1989, when students, workers, small traders and residents found some common cause in the protests demanding democratic change that took over Tiananmen Square. So far, that has not occurred.

"Covid Zero produced an unintended consequence, which is putting a huge number of people in the same situation," said Yasheng Huang, a professor at the MIT Sloan School of Management who leads its China Lab. "This is a game changer."

"The anger has been pent up for a while, but I think the 20th Congress provided an expectation that it would wind down," he said, referring to the party's leadership reshuffle in October. "When that did not happen, the frustration quickly boiled over."

[…]

While many protesters limited their appeals to the loosening of Covid restrictions, some seized the chance to make broader political demands, linking the draconian reach of "zero Covid" to the country's authoritarian system.

On Sunday, hundreds of students gathered on the campus of Tsinghua University, in northwest Beijing, where they have been largely prohibited from leaving for weeks because of Covid restrictions.

"Democracy and rule of law," the crowd chanted. "Freedom of expression."

[…]

Mr. Xi has no easy response to the widespread anger. Censors have moved quickly to scrub photos and video footage of the protests. If Mr. Xi cracks down on demonstrators, he could anger the public further, straining even China's formidable security apparatus. If he abruptly lifts many restrictions, he risks hurting his image of unassailable authority that he has built in part on his success battling Covid. The ensuing rise in infections, potentially deadly among the vulnerable, may also become another source of discontent.

"The immediate challenge is whether and how they're going to continue with 'zero Covid' when there is so much frustration. This is a decision he has to make in the next, say, 48 to 72 hours," Minxin Pei, a professor of government at Claremont McKenna College who studies Chinese politics, said in an interview. "You can arrest people and put them in jail, but the virus will still be there. There are simply no easy answers for him, only hard choices."
William Hurst, the Chong Hua Professor of Chinese Development at Cambridge, has a long Twitter thread on the protests , the upshot of which is that what makes this particular set unusual is that they're coordinated across regions. The CCP has long tolerated labor protests and those over isolated local issues but is fearful of coordinated actions like this. Further, COVID is a unifying issue, not the actual theme:
What's happened in the past 24 hours is novel in that protesters have appeared on the streets in multiple cities with apparent knowledge of what is happening in other parts of the country. They're all mobilising around #Covid, but this is refracted through distinct lenses.

Workers in Zhengzhou and elsewhere are engaged in labour protests, but with #ZeroCovid as a kind of frame for their grievances. Students across dozens of campuses, similarly are mounting familiar kinds of protest, but also framed around Covid.

The protesters in these crowds don't look to be either workers or students. They appear to have mobilised first around #Covid & urban governance issues – in particular, in reaction to the fire and failed response in Urumqi two days ago. But they've morphed beyond that.

By taking up slogans and frames of generalised dissent, as well as at least implicitly signally solidarity with workers' and students' mobilisation, these crowds are crossing a boundary and helping merge four of the five strands/repertoires outlined above.
He also has some speculation about where the protests go from here. He's not hopeful:
[I]f we assume no elite backers, the most likely scenario I can see is that the protests fizzle out (as most such movements do in most countries). Having erupted spontaneously in a short period, they will fade away without reaching any climax or denouement.

A second possibility is some form of comprehensive & decisive repression.

This could take the form of a coordinated and possibly quite violent crackdown (as in 1989) or it could be slower-motion and at least somewhat less bloody (as in HK in 2019-2020).

Either form of repression would be extremely costly for the state, however (both in fiscal and reputational terms). It would not be undertaken lightly, as it would also raise the stakes. It's thus a decidedly second-best option and not as likely as the protests fizzling.
The government is already taking advantage of Twitter's collapsing moderation infrastructure and flooding the platform with spam images to help frustrate coordination among the protestors. They are simultaneously easing some rules , while keeping the "Zero COVID" strategy intact. Overall, I'd be pleasantly surprised if the protests amount to much.